An Online Upholstery Class
Detailed instruction on furniture upholstery, auto and marine upholstery, how to make slipcovers, and canvas work.
Read Safety Information At The End Of This Page Before Starting Any Of These Projects.
START LEARNING BY MAKING OR RECOVERING PILLOWS AND CUSHIONS
HOW TO MAKE A PILLOW

---Practice By Making A Throw Pillow. Measure existing pillow with a tape measure, between the welts. The first measurement is up and down. Second is side to side. We'll be using 1/2" seams on most articles in our series, so, add 1" to your measurements to get the cut size. Figure the length of the welt cord. It can be 1 1/2-2" wide, it doesn't have to be exact. Cut the welt material on the bias, ... click link above for more.
INSTALL A ZIPPER IN A PILLOW

Learn to cover a zipper so it doesn't show. It's a similiar technique to installing a zipper in a boxed cushion as we show later.
HAND SEW

Learn to handsew with a curved needle. Use can use this skill to close cushions and pillows, to make repairs anywhere a seam has pulled or rotted out. You can also handsew the sides of outside backs or the front of outside arms insteads of using nail strips. Done right even contrasting thread won't be visible.
UPHOLSTERING BASICS WITH VIDEO

Practice By Covering A Dining Chair Slip Seat: Remove seat. Most are screwed on, a cordless driver makes the job much faster. If you are working on a set of antique chairs it's a good idea to number the seats and the chairs so the holes line up when you reinstall them. Mark the front of the seat. click link for more.
BOXED AND WELTED CUSHION

When you can make a boxed cushion with piping you've learned at least 25% what you need to know to become an upholsterer. Really! You'll be able to sew boxed inside backs and envelope arms and bar stool tops and boat seats and much more. We even show you how to sew the cording and boxing to the plate (main piece of fabric) at the same time along with the zipper boxing. You can save 20 minutes on every cushion you ever sew.
Tips For Sewing Large Cushions (Such As Bay Windows And Boat Cushions)
WATCH THE VIDEOS TO LEARN ABOUT THE TOOLS YOU NEED
See the hand tools pro upholsterers use. Or buy at our upholstery TOOL KITS page.
This video can help you decide whether to buy air or electric, 3/8 or 1/2" crown. Buy staple guns here: UPHOLSTERY STAPLER
RUNNING YOUR OWN UPHOLSTERY BUSINESS
TIPS FROM EXPERTS

What other trade can you learn at home besides upholstery work? Plumber? Electrician? No, you'll have to apprentice for those. No certification or degree required-just do good work! Managing your finances and cash flow. Get a website for your business-they're cheap advertising. Pricing upholstery jobs (more opinions on our Discussion Board).

WHY UPHOLSTER?

by Jack Carr "If a sofa or chair is in good shape on the inside and all it needs is a fresh new fabric on the outside, that's recovering. When a piece needs work on the inside, either partially or totally (new webbing, re-tied springs, new fillings, re-cushioning) that's reupholstering. Both are the province of the upholsterer, marine fabricator or auto trimmer."
UPHOLSTERY PRIMER

by Jack Carr. Webbing, coil springs, zig zag springs, filling, fabrics etc.
UPHOLSTERY YARDAGE CHART.

Furniture yardage estimates-sofas, chairs sectionals and ottomans. See our cutting info diagram under How to Upholster a Chair. Chart courtesy of C.S. Osborne Co.
FURNITURE UPHOLSTERY AND REUPHOLSTERY
ANALYZING YOUR FURNITURE

from Sunset Book's SIMPLY UPHOLSTERY
"No matter what the fine points of their design are, most chairs and sofas have an inner frame built of similar structural elements."
HOW TO UPHOLSTER A CHAIR Part 1

(REUPHOLSTER A SOFA THE SAME WAY)
Learn to strip off the old fabric, take measurements and cut the new fabric.
HOW TO RECOVER A CHAIR OR SOFA, Part 2
INSTALL OUTSIDE ARMS, BACKS AND PANELS, Part 3,
HOW TO UPHOLSTER A SOFA Part 4.
Use these techniques for most styles of upholstered furniture.
FURNITURE SLIPCOVERS

MAKE A TAILORED COVER FOR A CHAIR
SLIPCOVER A RECLINER

---You gotta be kidding! - and other recliner info
MAKING SLIPCOVERS FOR DINING ROOM CHAIRS

from Simply Slipcovers by Sunset Books
UPHOLSTER OR SLIPCOVER AN OTTOMAN
AUTO UPHOLSTERY AND REUPHOLSTERY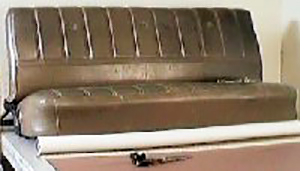 HOW TO UPHOLSTER A TRUCK SEAT

How to upholster with Vinyl And Sew Channels. Recover all kinds of bench seats.
HOW TO COVER DOOR PANELS

from Don Taylor's book AUTOMOTIVE UPHOLSTERY HANDBOOK
HOW TO MAKE SUNVISORS

from Don Taylor and Ron "The Stitcher" Mangus' book CUSTOM AUTO INTERIORS. These guys really know their stuff.
HOW TO INSTALL AUTO HEADLINERS

by Ron Fryer
HOW TO INSTALL PRE-CUT AND SEWN AUTO CARPET

by Ron Fryer
HOW TO INSTALL MOLDED AUTO CARPETS

by Ron Fryer
INSTALLING PRE-MADE CONVERTIBLE TOPS

By Ron Fryer
BOAT AND CANVAS PROJECTS
MAKE BUTTONS EASILY
MORE GOOD STUFF
OUR READERS' PROJECTS
Upholstery needles, tacks, staples, scissors, etc. are sharp. Staples guns are powerful enough to penetrate hard woods. The needle on an industrial sewing machine is as large as a finishing nail. Use eye protection where appropriate and needle guards if recommended with your sewing machine. Secure your work. You're more likely to injure yourself on a small job like putting a button in a pillow than in a chair. A dining room chair seat can slip easily while you're stapling it if you're not careful. Use both hands when using staple knockers to strip furniture and so on. Use your common sense. We're not responsible for any injuries received while following these instructions.