CONSTRUCTING THE FRAME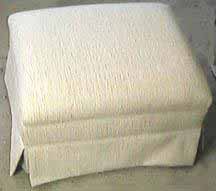 You can make this ottoman and several other styles by first constructing the simple frame shown below. If you're in the upholstery business, keeping a few of these frames around to sell with chair jobs is a great way to increase income. It's just about as easy to make several frames at one time as to make one.
Here's some of things we'll go over during this segment:
MAKING OF THE FRAME.
Installing jute webbing on top (done the same way as applying webbing for coil springs under sofas and chairs) or you can make a plywood top or cover with a STURDY fabric.
Padding frame
Covering top and adding front band
Suggestions for making different styles
Applying this information to boat seats, benches, and bar stools, etc.
How to make a tailored skirt
This frame will work with most chairs unless they are unusually low. I usually like to have the top of the finished ottoman to be an inch or two below the top of the chair cushion. That way your legs are fairly level when you sink down into the cushion. You can control the height of the finished product by using the appropriate thickness of foam and length of the legs or casters.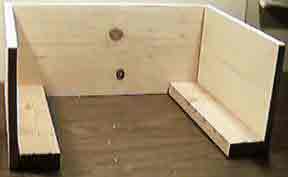 Here is the frame completed except for one side. It is made with inexpensive 1x12" pine (or fir). Remember when calculating your finished measurements that 1x12s are really about 3/4" by 11 1/2" and 2x4s are really about 1 3/4 by 3 1/2". You can make the length and width whatever you like. We cut the front and back boards 24" and the sides 18" Since the front and back boards are attached to the ends of the side boards, the finished frame will be about 19 1/2 x 24"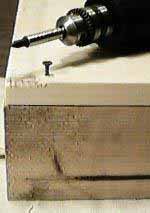 Cut the two 2x4 pieces the same length as the side boards (18"). Put a little wood glue along the edge of the 2x4 and attach using nails or screws. Dry wall screws and a cordless driver make this a quick process. Next attach the front and back boards to the sides in the same manner. Make sure to nail or screw into the ends of the 2x4 also.

It's easier to install legs or casters after the fabric has been put on but you might want to check overall frame height at this point. Ball casters are actually better on carpet than the one in photo. You may want to match legs to those of the chair if it doesn't have a skirt.

Next we'll install jute webbing. You could put a piece of plywood on top instead if you wish.
HOW TO INSTALL JUTE WEBBING
This demonstration on how to apply jute webbing will be done on the top of an ottoman frame. In most cases it is installed on the underside of sofas and chairs in the same manner. Then coil springs are attached with a special tool or with hog rings or sewn down.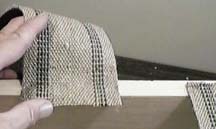 This webbing comes on a roll, is about 3 1/2" wide, and is made from jute, a strong fiber grown in India. A new webbing job can last 8 to 15 years depending on the amount of use. You can use tacks 12oz to 16oz or staples 5/8" or 9/16". Remember this webbing has to support a lot of weight. First, face the roll away from you and put in a row of staples or a row of about 6 tacks.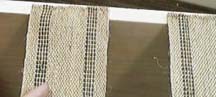 Then, bring the roll towards you and put in another row of staples or another row (about 5) tacks. Offset the tacks a little but be careful not to split the wood rail.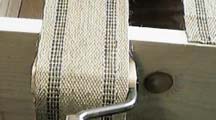 To be effective this webbing needs to be stretched tight and is is most easily done with a webbing stretcher which has nail-like teeth for a good grip. Add a row of staples or tacks.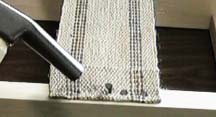 Trim the webbing off leaving about 1 1/2 to 2" to fold over. Add another row of staples or tacks.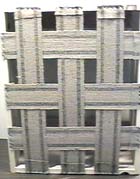 Install all the webbing going one direction then weave the pieces going the other direction. The distance between the straps will depend upon where the coil springs will be sitting and will probably be closer together than this ottoman top.
HOW TO PAD THE OTTOMAN FRAME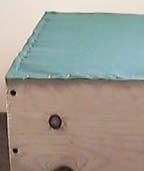 For more support and to keep the foam from wearing down through the webbing straps, staple or tack a piece of burlap or strong leftover fabric on top of the webbing. Trim close to the frame.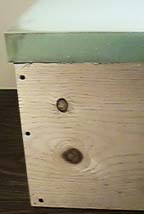 You'll need to determine the final height and style of your ottoman at this point before going on. See styles in the next segment. Cut the foam so that it will overhang the frame a little (1/8-1/4") Cut the foam with a foam cutter, electric carving knife, butcher knife or miter box saw.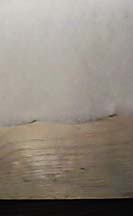 Put a layer of cotton or bonded Dacron over the foam and come down to the point where your band or skirt will start. How much you pull the the corners down with the Dacron will depend on whether you have a boxed or pullover type top (like the one at the top of this page).
See the hand tools pro upholsterers use. Or buy at our upholstery tool kits page.
Supplement your professional tools with these items which you may already have or can get at a hardware store: wire cutters for pulling out staples (an old dull pair is good because it won't cut the staples), a framer's square for getting straight cuts on fabric, a 45" or 60" ruler (most upholstery weight fabric is US is 54" wide) and a utility knife for stripping off old fabric.
This video can help you decide whether to buy air or electric, 3/8 or 1/2" crown.
Buy staple guns here: UPHOLSTERY STAPLER. Electric guns from hardware stores shoot too thick of a staple and aren't powerful enough for furniture hardwoods.