Upholstery Foam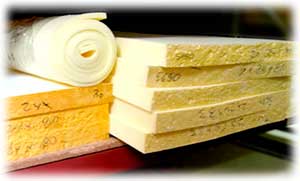 Upholstery foam, with its wide variety of applications, is a must have for any hobbyist or professional upholsterer. Our sister site FOAM ORDER offers a wide selection of upholstery foams at standard sizes or cut to order. From soft to dense, we have the foam you're looking for.
If you need your foam cut to a unique shape, we can do that for you as well. We understand that different projects call for different shapes and densities of foam. Not every home upholsterer has foam cutting tools, which is why we are happy to cut your foam to order.
Custom Cut Upholstery Foam
CLICK A SHAPE TO ORDER FOAM:
If you need custom shaped foam for your next upholstery project, you've come to the right place. Click the shapes below to begin. This will take you to FOAM ORDER.
Once you've selected the foam and shape required, our professional team can vacuum compress your upholstery foam, reducing shipping costs, and protecting it on its journey from us to you.