Foam Cutters
Upholstery Foam Cutter
Foam cutter saws will easily and accurately cut polyurethane foam. If you've ever tried to hand cut foam, you know what we mean. You're in the right place.
If you are looking for foam and batting products, please visit our sister site
Foam Order
Time for a foam cutter? If you are cutting foam weekly, it is time.

Working with the EZE 8" Foam Cutter. Our video above will help you choose the right foam saw. Just click on the video to begin.
Have you been struggling through upholstery projects that involve cutting foam? Are you exhausted by using scissors or bread knives to slice through large cushions of foam with difficulty? It is time for you to invest in a high quality foam cutter. Foam cutters make slicing through large sheets of foam an absolute breeze. Saving you time, energy, and money. Not to mention, accurate cutting!

The AcuCutter is a professional foam saw.
Foam cutter saws made by AcuCutter, are made in the USA. Our premium selection of AcuCutter Professional Foam Cutters and accessories will suit your upholstery needs. These products are some of the best in class for quick and accurate foam slicing. Say goodbye to sore arms and destroyed foam. Investing in a high quality foam cutter will improve your turnout and give you beautiful results.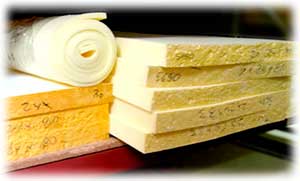 The AcuCutter heavy duty polyfoam saw is an excellent choice for upholstery shops, manufacturers, and hobbyists looking to improve their at-home shop. This saw has a lower price point than others on the market, but doesn't compromise on quality.
Foam cutter blades are built for cutting through polyfoam or foam rubber. They easily slice through these materials with quality precision. However, this saw is not built for styrofoam and should not be used on that material. For standard upholstery, most projects require a saw to cut through 2 to 5 inch foam. If you need to cut through foam of 1 inch width or less, we suggest making a small incision with your shears before you begin to saw. This will prevent your saw from pressing against the foam.
These will easily cut along curves and turns smoothly.
The AcuCutter Foam Cutter is lightweight and easy to use. With it's durable and light construction, it is easy to operate with one hand. The flexible blade can easily handle sharp corners. Cutting T or L shaped cushions is a breeze with this durable saw. You no longer need to fear shaping cushions for chair backs or dining room formal seating. This saw can help you tackle any shape.
Our professional foam saws will cut cleanly and straight.
Tired of cleaning up small pieces of fluff and extra foam left over from your messy electric carving knife? The clean cut of the AcuCutter means you won't be spending hours picking up tiny pieces of foam after the project is finished. Eliminate jagged edges with this accurate foam cutter.
These are well built machines that will save you time and money.
Additionally, the thoughtful construction of this foam cutter help you cut in a straight line with ease. The attached foot plate has small wheels along the bottom, so it rolls nicely across your work surface as you slice through foam. For freehand cutting, this rolling foot is easily removable, using the included hex key.
Since time is money, this AcuCutter absolutely pays for itself. Instead of wasting hours each day slowly cutting through foam with a clumsy electric saw, this foam cutter can cut in a clean line in half the time. Save yourself money and frustration and invest in a new foam cutter.
Buy with confidence! This saw comes with a manufacturers one year warranty. This USA made product comes with a guarantee that for one year, the manufacturer will fix or replace any defective parts.
Safety First! This is a foam saw with moving blades, so don't cut yourself.
As with any power tool, safety is a concern. Keep fingers away from the blade and cut slowly and carefully. No sense cutting yourself.
Buy with confidence that you're making the right decision for your unique upholstery needs! This saw comes ready to go, fully assembled with no additional parts needed!
Customer Satisfaction Guarantee:
Our products may be returned for 30 days in new, unused condition and in their original packaging. Foam Adhesive, Silicone Spray and Fast Tack Adhesive are not returnable.
We ship US Postal Service (2-3 days Priority Mail to most US locations). Air to Canada and Mexico requires 2 boxes (approx. $84 total), other countries 2 boxes (approx. $130 total). Our order form may give you higher price, but we will refund the difference and ship in flat rate boxes (for example to Australia our shopping cart may give you $160 or more - we'll refund the difference). At times the shipping estimate is unable to calculate the correct shipping charges. When this occurs, the shipping charge will be $15.50 USD. If this happens to your order, we will contact you with the correct shipping charges. If you approve of the corrected shipping charge, we will send you and invoice for the balance due.