See what our readers have accomplished: Page 1 | Page 2 | Page 3 | Page 4 | Page 5 | Page 6
Here' a few pieces covered by Kandy Olson
TLC Upholstery, Lake City MN
"I am a third generation upholsterer. I learned the trade from my mother and worked in several other upholstery shops prior to opening my shop in 1990. I used to run TLC out of a downtown location. Last year I decided to close the store front because I was tired of working alone and I went to work at Wild Wings Art Gallery's frame shop. I do upholstery as a hobby only, which makes it easy to pick and choose what piece I want to work on. I also teach the trade in our local community."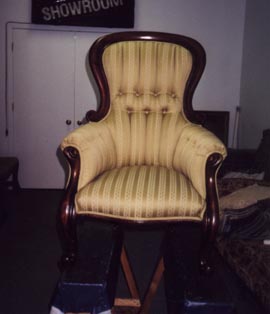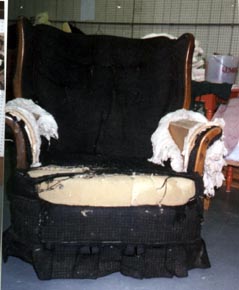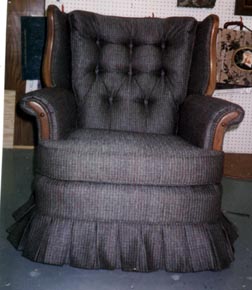 Left: Victorian chair.
Center: Wing Chair. "Why we like dogs." And cats ain't too bad for business either.
Right: After Kandy rescued it.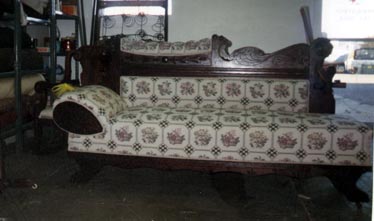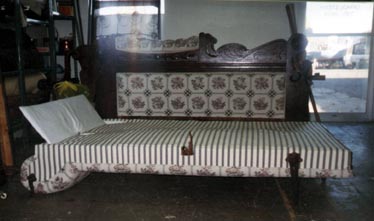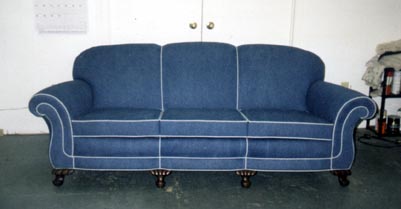 Left and center: I've never seen a fainting couch like this before. It folds down into a bed.
Right: Denim sofa with ticking stripe welt cord.
Here are some pictures of some '94 Mustang seats recovered by Danny McIntosh
of D'Iberville, Mississippi.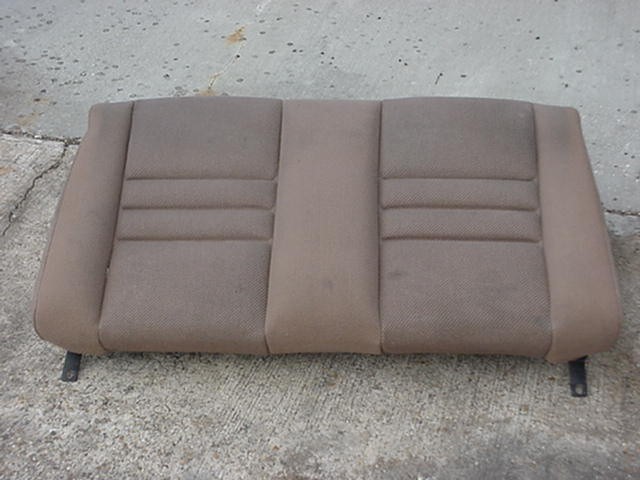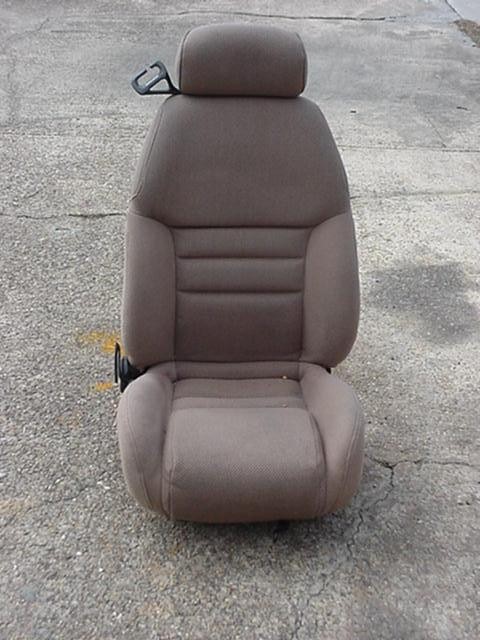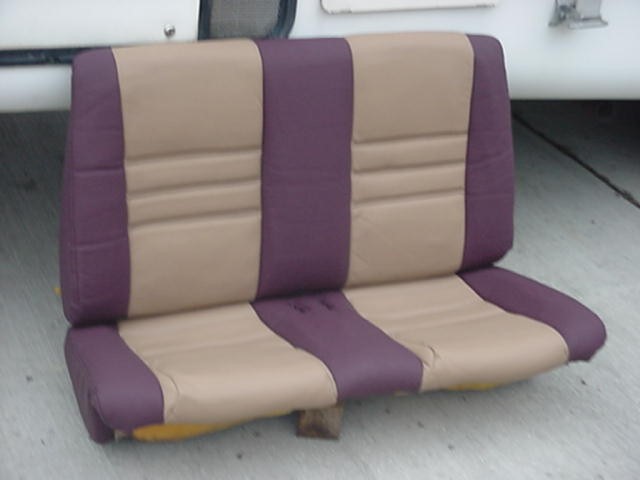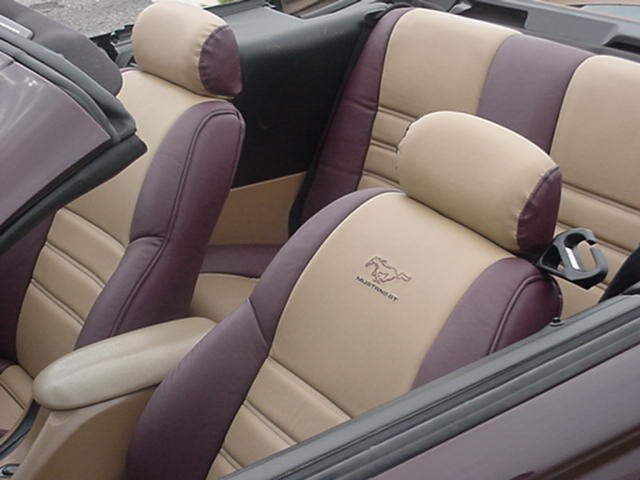 "The method that Ford uses to attach the covers to the seat make the process a little more difficult than usual. With a small design change, and a little embroidery on the front seats, the job came out fairly well, and has brought me several referrals for more work. The material is vinyl, that feels like soft glove leather, and gives a really good appearance to the final result."
"I did these seats in my garage, but as do most of us, hope to find a larger space someday. I'll look forward to any comments, constructive or otherwise."
Jaguar headliner by Randy Smith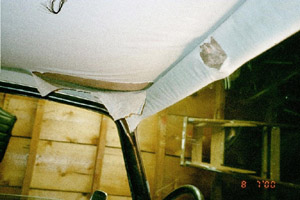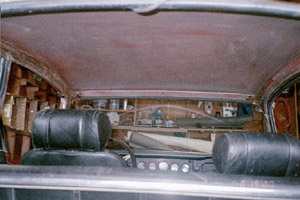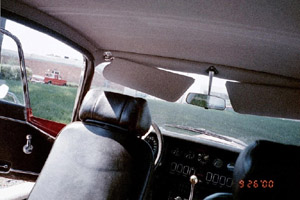 "Let me tell you about this project.
First of all when I was in High School, I worked part time at a car upholstery shop in Kirkwood, Missouri. I started there when I was 15, and was hired as a janitor. I didn't know squat about upholstery then. I worked there for three years, full time in the summer.
The owner let me learn the best way by having me pull car seats out, then taking off the seat covers. When the sewing department completed the repairs, I would put the seat covers back on. I also pulled out headliners and put them back in. I was such a novice compared to the crew of guys out in the shop. They were all the best teachers, needless to say I learned a lot.
Now go forward 26 years. I work in a sheet metal fabrication shop. This past summer one of the owners asked if I remembered how to install headliners. I told him that you never really forget how to do it, but that it would take me awhile longer since it had been numerous years since I last did it. He had a 1972 Jaguar type E 2 + 2 coupe. The headliner began to sag, and then it completely hung down. I now had a reason to clean my garage.
After getting my shop in order, I had the Jaguar brought over. I was really looking forward in doing this job. There is this need of creativity in me of taking something old and restoring it back to its original state.
The job took me a number of weeks, since I was doing it when I had free time. I did some research on the Internet, went to some fabric stores, a foam shop, a sewing shop, and did some reading at bookstores.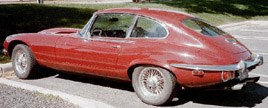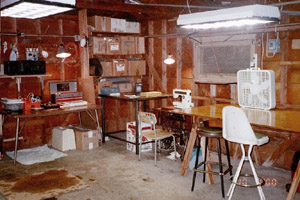 Right: Randy's shop
I had to teach myself how to sew; since that was the one thing I never learned how to do. I did learn a lot during this time. I also had to remake two panels in the rear of the car. It was hard work too, hot and sweaty but I can say that I felt quite rewarded after the Jaguar headliner was completed.
By no means am I an expert, but I am one that continually wants to learn how to do this type of upholstery."
Randy Smith
rssmith@mninter.net
Debra from Florida
Debra from Florida asks for suggestions as to how to cover the backs of this chair. It currently has cane in the front. I would suggest first of all removing all the cane. The outside back needs to be centered facing to the back and tacked or stapled-excess fabric trimmed off. If there is enough space I would put a couple of strips of webbing horizontilly across the inside back for support or at least some burlap or strong fabric. Pad the back with at least one layer of cotton or bonded Dacron or 1" foam. Center the inside back fabric and tack or staple. Trim excess fabric with a sheet rock knife or shears. It would be easiest to cover tacks/staples by gluing a matching gimp around as trim or double welt or head to head brass finish nails.