See what our readers have accomplished: Page 1 | Page 2 | Page 3 | Page 4 | Page 5 | Page 6
Custom Boat Seats by Matt Hankins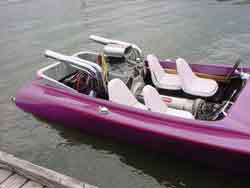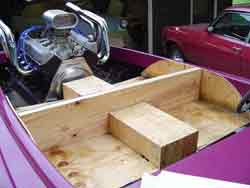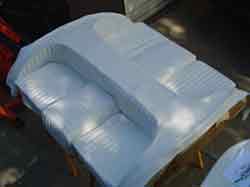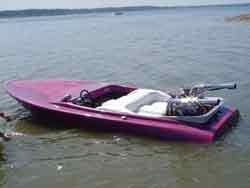 1. Before, completely un-useable back seat.
2. The wooden frame is assembled and later fiberglassed after a test fit. The tunnel in the center covers the v-drive gear unit and the driveshaft.
3. The covers are test fit before stretching them on and stapling the sides down. This was also before separate seat cushion boards were cut and fit.
4. Here's finished boat, ready for an 80 m.p.h. blast down the lake with one very comfortable driver and three screaming passengers!
I'm in a small town called Polk City close to Des Moines, IA. Most of the time I'm doing custom painting, and sometimes matching the interiors to the paint schemes. I do a lot of free hand flames sewn or embossed into material like door pads or cycle seats.
I recently bought this drag racing boat and decided to turn it into a nice family boat. It originally only had two seats in the boat with the v-drive(transmission) sticking out between them. The previous owner did his best by upholstering four fishing boat seats and installing, leaving no room to sit in the back two. I was just too cramped. Then, I came up with a plan and sketched several ideas out on paper, before choosing one.
I moved the 472CI Big-Block Ford engine backwards 15" and custom made a new driveshaft. Next, I designed and built a new plywood frame for the new seats and covered it in fiberglass cloth and resin for strength and prevention of dry rot.
Next, I cut the foam to fit the contour of the new seating arrangement. For the seat covers, I used bright white marine grade vinyl and preformed white welting. All and all, the boat project was very easy and totally transformed the boat into a super-quick four-seat family boat.
Keep this idea in mind for those boating customers that are tired of the boring old loungers that are availabe from most mail order houses. For about the same price you can custom build a really comfortable set!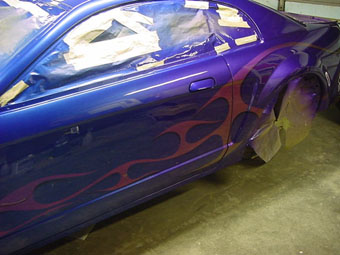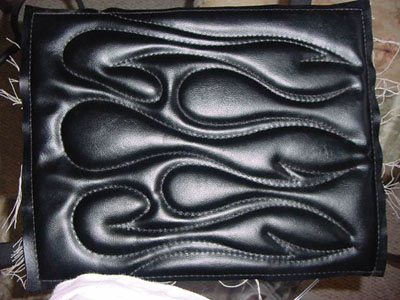 This Pro 5.0 carbon fiber Mustang is an example of my work. I painted the car with house of color candy blue/faded to candy purple and chromalusion tribal flames. The car is driven by Donny Walsh JR. and has set the national record in Pro 5.0 this year. It is sponsored by Procharger.
If any of your readers need some flamed panels made for motorycle seats, or whatever the project, I can freehand them with my juki 563 really well. I just need to know the style of flame. Here are some tribals done in black vinyl. I've been doing flames for years! Now they're popular again.
In regards to a "how to flame" in upholstery. Most of the time I have a rough sketch on a separate piece of paper and usually only transfer a few points onto the material. Basically it gives me a start and stop point reference on the flames and their tips. The rest of the curves just "flow " as I run the material through the machine. If you use a 1/2" foam with jute backing, then heat the stitches with a hair dryer after stitching, it really gives it the "full" embossed look. for those less experienced in flames, an electro-pounce machine and chalk will also work making your flames. find a flame design that you like in a photo. scan the image. use an auto-trace sketch program to outline the flame. Modify it for your needs and resize the image to fit your space. After printing it on paper, use the electro-pounce machine to punch holes around the outline. Use a chalk bag to trace the outline onto your material and sew. It's the same principle used in air-brushing and custom designs on automobiles. This works particularly well on jobs that require an exact mirror image. just keep the stencil that you've made and toss the chalk bag against the other side for the mirror image. Put the stencil in a file for a reference with future customers. The more flames that you do, the more you can "freehand" them to develop your own style. Each door panel is different, and you'll be faced with carrying the flames to wrap around different obstacles. (punch wheels will also work fine for just getting started) Good Luck!
email Matt at: mphhank@mchsi.com
Custom Upholstery By Gail Galanski
Florida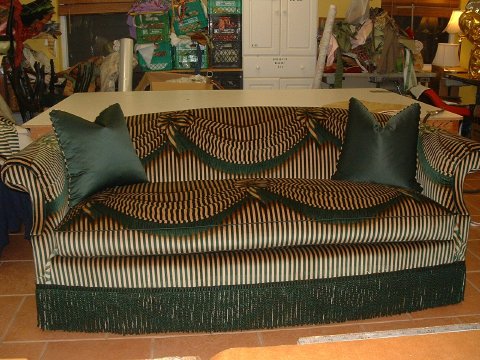 "I own and operate a custom Upholstery Shop in Sunny, West Palm Beach Florida. We have only myself and my husband (Ted) as employees. I am commonly refered to as the "cushion queen" of our area and hopefully my work speaks that my profession comes from the heart! The vast majority of my work centers around our ability to transform beautiful antiques back to their original splendor. Not limited to upholstery, we also create custom made Draperies, Curtains, Bed skirts, Upholstered headboards, Cornices, Canopies, Bedspreads, OOAK Pillows and much much more! We take a job from beginning to end including estimating, selling the fabric, manufacturing the pieces, and installation. I LOVE MY JOB! :):) This wood frame sofa actually started out virtually ordinary. After adding the printed, Scalamandre Velvet fabric, specially ordered, and called "Parlor Swag" that was strategically placed, this sofa surely is in a category all it's own! This sofa is one of a kind, and custom, made for an antique shop here in West Palm Beach Florida. One single full size cushion with springs surrounded by 100% down, it is as comfortable as it is beautiful. To finish it off I added the specially dyed to match, 8.5 inch bullion fringe. She proudly sits, on display, and for sale at the Brass Scale Antique shop on Dixie Highway, WPB.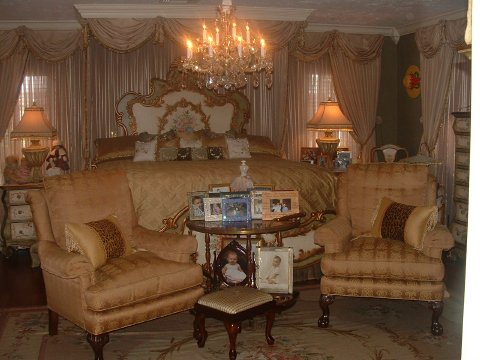 "This well designed, one of a kind Masterpiece Master Bedroom is one of the most popular rooms in our home! Hundreds of yards of silk adorn each of the 2 windows and doors on either side of the bed. Fully lined with interling and bump, the pinch plete draperies are fully functional with traverse rods. Graceful rosettes accent each swag and hand made tassles gently hold back the draperies. The custom fitted and constructed canopy has a soft and light feel inside, lined on the top inside and the sides, with yards of sheer, gathered,stripe silk, identical to the Bed Headboard wall. The custom fitted, silk, fully lined, beadspread is hand tufted, and took weeks to do. Comfort, describes perfectly, the silk bergere chairs overstuffed with 100% down. Over 125 yards of tiny tassle Houles silk trim outline sweetly, the lamps, draperies, swags, and many pillows including the oversized kingsize pillow shams. Twelve (12) handpainted oak furniture pieces include a Mule chest, a Secretary, a Grandfathers Clock, Hugh dresser with mirror, a side chair, and 2 Batchelor Chests (made into sink vanities in the master bath) to name only a few. Artists took over one year to hand paint each piece, perfectly matched! We call it our "Presidential Suite", with over one full year beginning to end, to complete the room itself, the furnishings, and the decorating! Sigh, I often walk thru and smile, as it was worth the labor it took, the cost it was, and the wait.............. and yes, Hubby and I did it all ourselves, refering to only magazines as our guide."
-Gail Galanski Upholstery