By Ron Fryer
Remove old carpet.
Remove sill plates and seats.
Remove front seat belts.
If your car has a center console, you may have to remove it. If the carpet will pull out from under it, you can do that and then tuck in the new carpet later. Sometimes you can cut the old carpet out from under the console.
Clean floor.
Divide carpet padding into two equal lengths.
Place one of the carpet pad lengths across the front floor, stretching it over the contours of the transmission hump.
Fold back one half over the other from side to side of the car.
Glue a 6 to 9 inch strip in the middle of the transmission hump from the front to the back, and then position the carpet padding back into place.
When you are satisfied with the position of the padding, lift each side and glue it to the floor.
Trim the edges ½ inch in from the sides.
Cut out the holes for the seats and seat belts, and the gas pedal (if necessary).
Install the rear padding in the same manner.
Position the front carpet over the padding.
When you are satisfied with the position of the front carpet, glue the center in the same manner as you did the padding. Then proceed to finish gluing in the carpet, always working from the center outward. You may want to glue smaller sections until you feel comfortable with larger ones.
Install the rear carpet in the same manner.
Cut out the seat belt holes, but not the seat mounting holes. These are merely cut to the seat mountings and the carpet lays on top of the bolts.
Trim the sides to fit, allowing for enough carpet to go under the sill plates and kick panels (and console). Remember that you can always cut more off, but you cannot add on. Be careful.
Replace the sill plates and seats (and seat belts).
Ron Fryer Auto Upholstery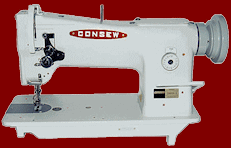 Toledo Industrial Sewing Machines is a Consew dealer. We sell and service new and used industrial brands of walking foot (including portables), zig-zag and straight stitch machines, including: Adler, Chandler, Consew, Cowboy, Juki and Pfaff. Long arm and double needle models in stock.
Call us toll free, at: 866-362-7397
We stock and sell replacement parts, accessories and attachments for all industrial sewing machines, including needles, bobbins, winders, nylon thread, oil, thread lube, belts, motors, speed reducers, edge binders and folders, edge guides, presser feet, thread snips and commercial scissors.
Our website: http://www.tolindsewmach.com/