Analyzing Your Furniture, from
Simply Upholstery
Used by permission of Sunset Books Inc.
Due to scanning and computer monitor differences the illustrations included here are much clearer in this excellent book.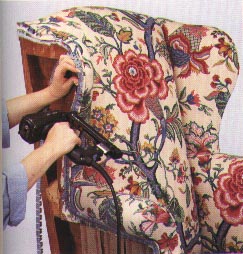 Before you can upholster a piece of furniture, you need a solid understanding of how it is put together: What are the hidden structural componets? What are the design features that give the piece distinction? The structure and design together dictate the shape of the furniture and the nature of the upholstery. Once you understand them, you've the guidelines for the job ahead.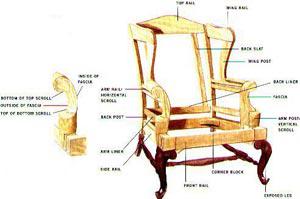 THE FRAME
No matter what the fine points of their design are, most chairs and sofas have an inner frame built of similar structural elements. Bear in mind that rails and liners are always horizontal members; post and slats are always vertical members. >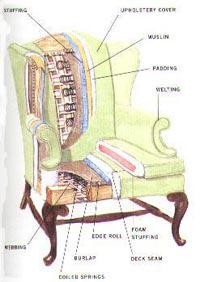 LAYERS
On top of the frame are mutiple layers of materials that round out and supplement the supporting understructure. These layers are finished with a cover of decorative fabric. Depending upon the condition of your furniture, you may reuse or replace some or all of these layered materials as you reupholster.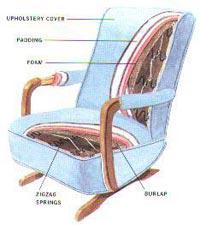 This drawing of a platform rocker shows a typical assembly of materials on a less complicated piece of furniture. In this case the chair has zigzag springs, but it could also have the coiled variety.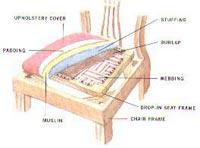 This drawing of a side chair shows a typical assembly of material on a drop-in seat, sometimes called a pad seat or slip-seat, constructed without springs. Sometimes you'll find rubberized webbing instead of the jute type.