Continued...
Be sure to read
Part 1 PAGE OF CHAIR INSTRUCTION
If you want free expert advice, post your questions into our upholstery
Forum
How to reupholster a chair next will be to lay in the pleats in the front of the arms. They should fall in naturally working from the bottom up. The pleats need to be even and not too deep so that someone can't easily pull them with their finger. They should be identical for both arms.
Make sure your staples or tacks are going to be covered up by the panels and cut away any excess fabric. The panels will need to lay as flat as possible when you install them. The upper portion of the outside arm will also be tacked down in this area later.
Things you will need...... Click an image below: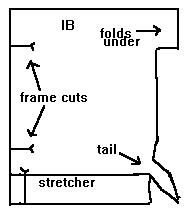 Base tack the inside back to the top of the frame. Make the "V" cuts for the lower part of the frame, pull through the stretcher material, and base tack. Now make the cuts for the side parts of the frame. At this time we have an important difference between the way we installed the seat and inside arms. Notice that in the illustration we have folded in a "tail" from the fabric left from the lower side cut and the bottom stretcher cut. This tail is pulled in front of the frame (covering it) and tacked in the same spot as the inside arm. This procedure also eliminates there being too deep a hole where the seat, inside arms, and inside back come together. Make sure the inside back is snugly tacked down and that none of your frame cuts will show through normal leaning on the back.

We've already sewn a strip of welt cord to the front band using a 1/2" seam. Align the band, measuring from the bottom of the frame, and put in a few staples to secure it. Then tack a 1/2" cardboard strip pushed firmly against the underside of the welt. The cardboard strip gives us a smoothe surface. This is what we call "blind tacking". You'll follow these same instructions to reupholster a couch, chair or loveseat.
Things you will need...... Click an image below:
Note, that this particular front band goes underneath the front of the inside arm but many bands go around the corner and are finished under the outside arm. See installing outside arms for completing this band.
Part 3: How to upholster a couch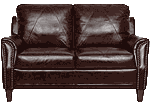 Waterhouse Leather
Upholstery Leather and more. 1-800-322-1177.
Yardage chart. Furniture-Automotive-Marine
www.waterhouseleather.com