How to Upholster or Reupholster A Dining Room Chair Slip Seat
Please read Safety Information before starting any upholstery projects.
This is a professional quality reupholstering tool kit (more information) containing: a magnetic hammer, gooseneck webbing stretcher, staple lifter, regulator, mallet, 10" shears, assorted needles, etc. There are many more speciality tools that we"ll show as we recover different jobs in our reupholstery series.
Supplement your professional tools with these items from a hardware store: Sheetrock knife with retractable blade, pliers, flexible 10' tape measure, wire cutters (actually a old dull pair is best for pulling out staples you've already loosened).
We replaced the filling on these seats with high density 1" foam and a layer of bonded polyester. The foam should be cut slightly larger than the seat, about 1/4" all the way around Avoid letting the fill hang over the bottom edge as this will usually leave a bumpy looking surface especially if you're using cotton batting.
Get your cutting measurements leaving enough fabric to get a good grip. After cutting, fold the fabric in half and notch the front and back. Also mark the center of the front and back of the seat. Put the seat on top of the material and staple or tack at your center marks and a couple of inches to either side. Tack to the left or right of your thumb rather than right below it as this will leave unsightly "tack pulls". Line up centers of seat and fabric on the back. Before stapling brush the material with your hand to remove any slack. Do this with any job your working on or it will wrinkle the first time it's used.
We generally use 3/8" staples for most our work, 1/2" for several layers of fabric, 9/16" for webbing and spring work, and 1/4" for panels. You can also use #4 tacks. If you're just starting out in upholstery considering setting up your work before driving tacks or staples all the way in. Use #16 (16 oz.) or #12 tacks and drive them only part way in using your magnetic hammer. when your cover is in place put in the permanent fasteners. This is an especially good idea when covering full size pieces of furniture that will need to be cut around the frames.

Remove seat. Most are screwed on, a cordless driver makes the job much faster. If you are working on a set of antique chairs it's a good idea to number the seats and the chairs so the holes line up when you reinstall them. Mark the front of the seat with a chalk line or put the letter "F".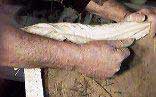 You can see in this photo that Mike is using his whole hand to pull the fabric in place on the side of this seat. Practice with a stripe and you'll see how much easier and faster this is than pulling a little at a time with just your fingers.By the way, mark the screw holes as you go along. Again, brush the slack out of the fabric while you pull the stripe straight as you near the corner. Tack the rest of the material down within a couple of inches of the corners.

Here's one type of corner you can make. Simply pull the fabric corner at the seat corner and fold in two pleats. the pleats will either show or not show depending on the thickness of your filling. Anymore than about 2" will need to be either boxed or the corners cut out and sewn. Trim away excess fabric. Some seats will need bottom cloth or cambric to finish off the bottom and prevent raveling.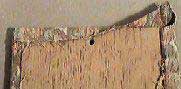 This is the front of another seat with a different type corner.

I've cut away the excess fabric before I fold and tack it down. Whatever kind of corner you apply if it's got too many layers of material it will be higher than the rest of the seat leaving a gap between the frame and seat in front and on the sides. Keep this in mind when recovering any furniture.

The fold should be slightly away from the edge on the underside so as to not be visible when the seat is reinstalled. Some seats have a welt cord around the base which not only gives a nice finished look but acts as gasket between the seat and the frame. The welt should be barely over the seat edge and not enough so as to have the stitching show. It should be butted and lapped as in the previous throw pillow segment. No raw edges.
Save a tree-reupholster!
This Youtube video is a fast motion excerpt from our DVD video Upholstery Fundamentals where we also recover a rocker, chair and sofa.
Learn to reupholster seats and more now!
Our how to upholster videos are full screen DVD for your TV or computer. And, of course, at normal speed and resolution.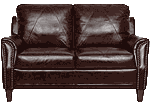 Waterhouse Leather
Upholstery Leather and more. 1-800-322-1177.
Yardage chart. Furniture-Automotive-Marine
www.waterhouseleather.com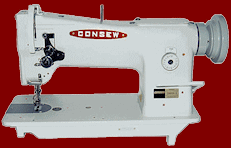 Toledo Industrial Sewing Machines is a Consew dealer. We sell and service new and used industrial brands of walking foot (including portables), zig-zag and straight stitch machines, including: Adler, Chandler, Consew, Cowboy, Juki and Pfaff. Long arm and double needle models in stock.
Call us toll free, at: 866-362-7397
We stock and sell replacement parts, accessories and attachments for all industrial sewing machines, including needles, bobbins, winders, nylon thread, oil, thread lube, belts, motors, speed reducers, edge binders and folders, edge guides, presser feet, thread snips and commercial scissors.
Our website: http://www.tolindsewmach.com/