Let's talk recliners for a minute. Are they worth upholstering or slipcovering? Are they a good buy in the first place? Will the mechanism last?
Let me answer the first question with my own opinion as a shop owner for 23 years. Don't take recliners in if you have enough other work to make a living. Price yourself out of the job. I would sometimes, during lean times, take difficult or low paying jobs to keep employees busy but then find myself very busy and bogged down with these jobs. Recovering the average recliner is going to take just as long as recovering the average sofa. But with half the yardage- important when you're selling the fabric. If you need to get out of a recliner job you can remind a client they can buy a new one for $300-$600. A good alternative for the consumer is to purchase a good chair and ottoman in the beginning. They can be recovered again and again. Or better yet buy an old chair with a good frame and recover it and have an ottoman made from scratch. Or buy a chaise lounge.
Recliner fabric tends to wear out faster than on a regular chair because you slide on the seat (usually not reversible) and use the front of the arms to pull yourself up.
Make sure the mechanism works on a recliner before deciding to recover it. If I see that the footrest is not all the way pushed back where it belongs or is cockeyed I know I'm in trouble from the start. A recliner can suffer metal fatigue (as can some cheap sofa beds). It is difficult to repair many mechanisms because they are riveted together.
A recliner is a puzzle. To upholster it you must take it apart and be able to put it back together, to slipcover it you must make it so it won't come loose as the chair is opened or closed. I don't suggest making a recliner your first upholstery or slipcover project.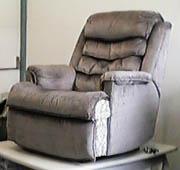 This not your typical recliner, this one's worse! I mean more of a challenge. Hardly anyone has asked us to slipcover their recliner in these many years but Mike took this one on anyway and the customer loved it when it was finished. We're not going into a lot of detail on how to do this one as you will be unlikely to have one like it. You must, of course, study
slipcover basics
in a previous segment before tackling a job like this. Note that this recliner has saddlebag style arms, seat, footrest, and four of them on the inside back.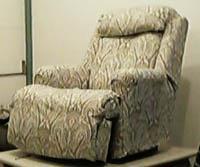 Here is the finished product. You need to think in 3 dimensions when planning a slipcover. We wanted to simplify and still keep the basic lines of the chair. Mike eliminated 3 of the saddlebag style attached cushions on the inside back and also the ones on the arms.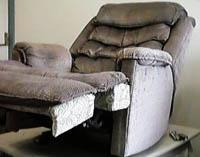 We cheated a bit and stapled the fabric to the frame under the seat and footrest since it probably wouldn't need cleaning as often as the rest.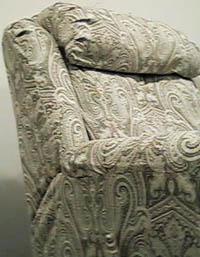 This cover is done in several individual pieces, even the recliner adjusting handle has it's own little cover. The arms are separate, seat and footrest are one, inside back, outside back and wings are one piece. Thanks to a liberal use of Velcro this slipcover job opens and closes just fine. Velcro was sewn to the cover and stick-on, reinforced with staples (where possible) was used on the frame. Some was attached under the top cushion to hold up the rest of the inside back.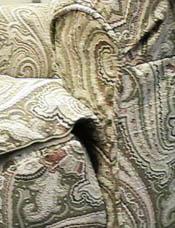 This is a view of the front of one arm where it intersects the closed seat. Pleats were used to shape the inside arm fabric to the front of the arm as was done to the inside wings. No skirt was applied to this job.