HOW TO MAKE COUCH, CHAIR, WINDOW SEAT AND BOAT CUSHIONS. HOW TO RECOVER BENCH AND OUTDOOR CUSHIONS
Before starting this project please study Basic Cutting and Sewing and How to Install a Zipper in a Pillow. Also if you don't want to have a zipper, as in the case of an open back piece of furniture, then study How to Hand sew.
Learning how to make boxed and welted cushions is one of the most important aspects of learning how to reupholster. The common boxed arm or inside back is done pretty much the same way. For more details on fitting and cutting a boxed cushion and instruction on different kinds of cushions and pillows (waterfall, cut-out corners, butterfly corners, pillow shams etc.) see upholstery training videos. It's faster and easier to learn from dvds! Learn how to make a cushion for a couch, chair, dining room seat and more.
If you plan on using the old chair cushion for a pattern, make sure it fits! Your client may not notice that there's a four inch gap between her sofa cushions when they are shoved together but she'll sure notice ifyou deliver them that way.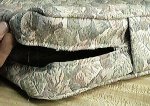 Using our method of sewing cushions you can sew an entire side without cutting your thread or removing your "foot". This photo shows our completed cushion as seen from the back and side. Note the pocket where the zipper boxing enters the cushion boxing. Be sure both the top and bottom plates are identical shapes. The corners have to line up when you're finished. The farther you are able to come around the corner with the zipper boxing the easier the cushion will be to fill especially if it has the old spring units inside. We use 1/2" seams.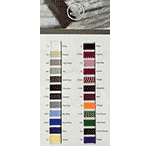 Use heavy duty thread. If you are using a home sewing machine check it's manual concerning adjustments for heavier thread. Also use a long stitch length. You can sew most cushion and other upholstery jobs using a neutral or light beige thread. When sewn right the thread won't show. But it's good to have a spool of black and white thread too and special colors for special jobs requiring top stitching etc.

We use #4.5 Nylon Chain Zipper Note that a pillow or knife edge cushion uses a smaller zipper like our size 2.5 zipper Fold down a 1/2" section of boxing fabric and top stitch it with the edge of the boxing at the center of the zipper teeth and the stitch just to the right of the teeth. Do this for both boxing pieces. You shouldn't be able to see the zipper at all at this point.

If you are using an industrial sewing machine you can sew a stop tab (a small piece of fabric) across the zipper after you have put on the slide. Set aside the completed zipper boxing for now.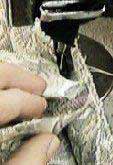 Make sure you have marked both sides of both plates so you know where to begin the boxing. Lay the welt down at least an inch, or more if you have the space, before this mark. You will need to lap a small portion of the welt later. Sew up to your mark then fold the boxing in at least 1 1/2" and sew boxing and welt to the plate all at the same time. The machine needle should be 1/2" from the edge of the plate and 1/2" from the edge of the boxing and snug against the welt cord. It may seem a little awkward at first but once you get a feel for it you won't have to keep going over and over the boxing trying to cover up the stitching from sewing each piece separately. You must be able to get your needle close to the welt cord as you saw in the basics information.

Just before you get to the corner, make 3 cuts part way into the boxing and welt seam allowance. One cut is directly across from the corner and one slightly before and one slightly after. This releases the fabric to make the turn without binding. Sew up to this point across from the corner, leave your needle in the material, and lift the machine foot. Next, turn the plate and push a little to crimp the cording for a nice square corner, sew the front of the cushion, and next corner. Never piece the welt or boxing in front of the cushion.

As you near the mark you made showing where to end the boxing, fold in the boxing at least an 1 1/2", more is okay. Add the zipper boxing inside the pocket you just created, also in at least 1 1/2". Continue around the plate, butt and lap the welt cord as you learned in the pillow instructions. Play out the zipper boxing into the pocket you made when you started. Should be at least 1 1/2", more is okay.

Now, notch all the corners in the boxing so you can align them with the other plate. Fold the zipper boxing out of your way and start just as you did on the first side. Check to make sure your v-notch lines up with the plate corner. Sometimes there's a tendency to pull the boxing stretching it, let it feed itself. When you get around to the pocket start the zipper boxing, making sure it's corners line up with plate. Play out the zipper boxing. Turn the cushion right side out. If the welt is even and tight and the corners all line up then give yourself an award as an Official Upholstery Seamperson! P.S. It's easier to learn cushion sewing on Upholstery Training DVDs.
Most (but not all of the time) you'll want to make sure your cushion filling (foam and dacron) is bigger than your new cover so that the cushion won't wrinkle when someone sits on it. You can cut new foam with a mitre box saw, electric carving knife or a butcher knife. The best way is with an electric foam cutter that rolls on your cutting table and we happen to have them right here: Upholstery Foam Saws
SPECIAL INSTRUCTIONS FOR HOW TO MAKE A WINDOW SEAT CUSHION OR BOAT CUSHIONS

When making large cushions such as in boats or window seats or patio furniture or other odd shaped cushions it's best to make a template. You can use bottom cloth (cambric) or some other cheap fabric or brown paper for your pattern. Place a chalk mark at the center of the seat, front and back. Often bay windows will need 3 cushions. Lightly draw a line from the corner of the wall to the corner of the seat. Place the template material down and chalk off a pattern along the wall, the line you drew, and the edge of the seat. Make a pattern for all 3 cushions. Add on for seam allowance.
Judgement Calls:
When you flip the center pattern over does it still fit?
When you flip the left cushion pattern over to the right hand side does it still fit? Sometimes either the walls or the seats weren't built identical. Do you want a tailored fit or reverseability?
It's easier to make a boxed cushion that fits well than a knife edge or buterfly corner cushion.
Beware of making cushions from a pattern or measurements your client gave you!
For long cushions or stretchy fabric you may want to cut the foam longer to avoid wrinkling. You can cut the cushion plate a bit shorter and let the foam kick it out.
Beware of window cranks or other hardware.
On seats that aren't finished yet beware of added moldings along seat edge or wall.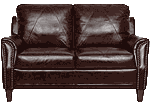 Waterhouse Leather
Upholstery Leather and more. 1-800-322-1177.
Yardage chart. Furniture-Automotive-Marine
www.waterhouseleather.com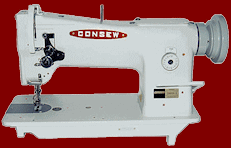 Toledo Industrial Sewing Machines is a Consew dealer. We sell and service new and used industrial brands of walking foot (including portables), zig-zag and straight stitch machines, including: Adler, Chandler, Consew, Cowboy, Juki and Pfaff. Long arm and double needle models in stock.
Call us toll free, at: 866-362-7397
We stock and sell replacement parts, accessories and attachments for all industrial sewing machines, including needles, bobbins, winders, nylon thread, oil, thread lube, belts, motors, speed reducers, edge binders and folders, edge guides, presser feet, thread snips and commercial scissors.
Our website: http://www.tolindsewmach.com/