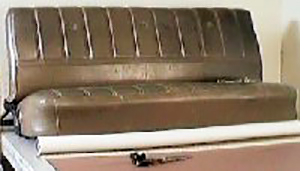 HOW TO UPHOLSTER A TRUCK SEAT OR AUTO BENCH SEAT
. Learn To Work With Vinyl And Sew Channels.
This bench seat is out of a full size American pickup truck. The back folds forward so we are able to remove it. Many car bench seats, especially out of four door cars, have rigid backs and you have to cut and/or sew around the frame just like a piece of furniture. About the only difference between a truck seat and car bench seat is that the fabric only covers a portion of the outside back on many trucks (see side view below) and all of it on a two door car. The outside back fabric will usually attach under the back of the seat on a four door car.....more
HOW TO COVER DOOR PANELS
from Don Taylor's book
AUTOMOTIVE UPHOLSTERY HANDBOOK
"We're close to seeing the end of upholstered door panels. More and more door panels are being molded as one piece. If you damage something, you must order a whole new panel from the dealer. Inexpensive to make-highly profitable as a replacement part. An interesting side point here: if you built a $20,000 car off the lot from replacement parts, that vehicle would cost somewhere in the neighborhood of $250,000!....."
HOW TO MAKE SUNVISORS
from Don Taylor and Ron "The Stitcher" Mangus' book
CUSTOM AUTO INTERIORS
"Recovering old sunvisors has always been a problem for the trim shop. Trying to manipulate a big sunvisor through the sewing machine while binding an edge too thick to fit comfortably under the foot, has driven many trimmers to early coronaries. At Ron's shop they've come up with a superb method for sunvisors made before the early '60s...."